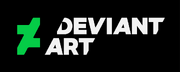 This article contains a subject better explained on other wikis
Please go to this wiki to learn more about this subject.
deviantART (abbr. devART or dA) is an art-sharing and artist community website founded in 2000.
Pros and Cons
Pros
Has plenty of groups for art of Team Fortress 2, Garry's Mod, and even TF2 Freaks.
There are plenty of like-minded artists within deviantART that might give you faves, comments, critique, and other goodies, like llama badges and dA-Points.
Cons
It has extensive rules regarding what content is allowed, disfavoring screenshots, art theft, and use of copyrighted images or music.
Art that breaks the rules has the possibility of being taken down, and repeat offenders will be banned permanently.
They don't call it "deviant"-art for nothing! Steer clear of rabid fangirls, perverted minds, and other deviated delinquents.
External Links
Ad blocker interference detected!
Wikia is a free-to-use site that makes money from advertising. We have a modified experience for viewers using ad blockers

Wikia is not accessible if you've made further modifications. Remove the custom ad blocker rule(s) and the page will load as expected.